Business Center
Our own Melissa Cowan is an winner for the 2019 Arts and Sciences Outstanding Staff Awards. We could not be more proud of Melissa and all her hard work and dedication. Congratulations!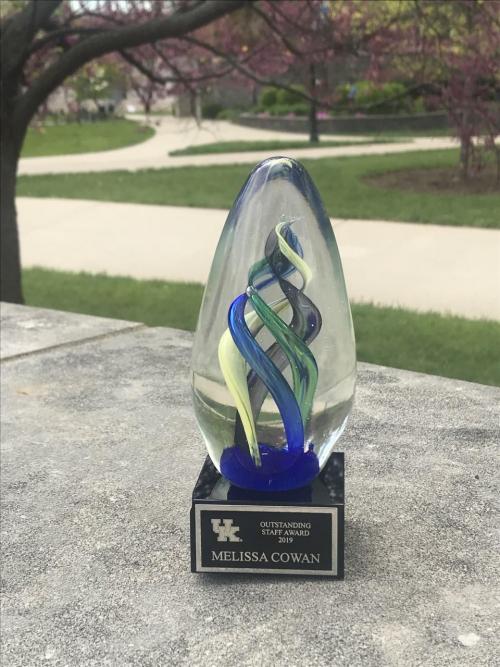 Located in 361 Jacobs Science Building and 213 Patterson Office Tower
Financial Operations: asbc@uky.edu, Grants: asgrants@uky.edu
Please see our directory for a full listing of staff.
All departmental and faculty folders for financial reports and data can be found at the A&S Department & Program Documents Sharepoint site.
What we do:
Budgeting and Forecasting (grants & all other types of accounts)
Grant Proposals
Travel Reimbursements
All Other Reimbursements
Financial Reporting
Payroll & Human Resources
Faculty Distribution of Effort
Facilitate Faculty Effort Certification
Visa Processing for Employees and Visitors                                                                                                           
Purchasing, including Procurement Cards
Student Payments & Scholarships
Check & Cash Deposits
Research Subject Payments
Miscellaneous-all other items with a financial component
We use a ticketing system called Triage to manage requests and you will receive an email back from one of our staff that will help with your request.
The University has many contracted vendors for procurement & travel.  By starting first with our unit we can help you to avoid significant delays in reimbursements and processing time by central administration.
Please visit our "Frequently Asked Questions" page for any questions pertaining to Sharepoint, Triage, or any other questions that may arise. For questions related to reading financial reports please visit our online tutorials or contact an Arts and Sciences business officer for additional asistance.  
Thank you for letting the Arts and Sciences Business Center serve you in anyway we can!