Connecting to A&S server folders from your Windows computer
Intended audience:
All users
Authenticated users (logged in)
Steps:
1.
If you are on campus, make sure you are connected to the campus internet. If you are working from home, log in to VPN.
2.
Click on the search icon and start typing in
This PC

3.
Click on the best match as shown.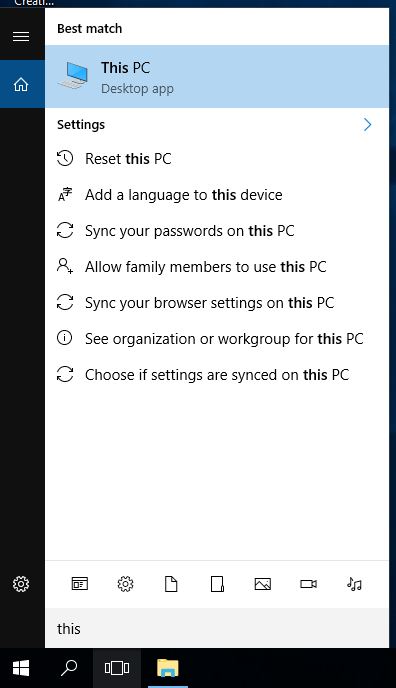 4.
Go to the computer tab.

5.
Click on Map Network Drive.

6.
Let the computer automatically choose an available drive letter.
7.
For Folder, type in the server address if we have provided it or if you already know it.
If you want to connect to your A&S user folder, the address that you use will depend on the department that you belong to. In the paths below, please replace linkblue ID with your personal linkblue and replacing dept. name with your department as it appears in the list.
\\ad.uky.edu\AS\dept name\linkblue ID
for office computer connections
\\asfile.ad.uky.edu\dept name\linkblue ID when connecting from home
Admin
Air Force
Anthropology
AppCtr
Army
BioSci
CESL
Chemistry
Discovery
EES
English
Geography
History
IPSVAW
Math
MCLLC
PhysicsAstronomy
PoliSci
Psychology
Sociology
Spanish
Statistics
SupportStaff
Web
WomensStudies
WRD
9.
Type in ad\ followed by your linkblue (email) username and password. Click OK.